A Proven Business Model
A laundromat investment offers stability, flexibility and other outstanding benefits that alternative investment opportunities simply cannot match. For more than 60 years, laundromats have consistently proven to be high-return investments. In fact, laundromat businesses located within the U.S. average a 20 to 35 percent return on investment.** 
Lower Startup Costs Than A Franchise There are many factors and risks involved in a franchise investment that you won't encounter with a laundromat investment. Opening a franchise typically means higher initial startup costs, ongoing franchise fees, liquid capital requirements and other investment roadblocks, whereas opening a vended laundry business provides a safer and more profitable investment. Advantages like low startup costs and high success rates make laundromats the ideal small business investment opportunity.
Higher Success Rate Than The Alternatives
Laundromats have a 94.5 percent success rate, specifically when backed with a manufacturer who has an experienced, in-house finance department.* You can greatly improve your chances for success with personalized, laundry-focused financing through Speed Queen® Financial Services.
Less Risk Than The Stock Market
Because clean clothes are a necessity, laundromat success is not tied to fluctuations in the economy. Not only is the commercial laundry industry substantial and stable, but laundromat investments tend to be profitable and recession-resistant. Plus, 90% of laundromat patrons become repeat customers. How's that for a stable customer base? 
Adaptable to Your Lifestyle
Find financial success and independence when you invest in a laundromat business. The flexibility enjoyed by laundromat investors allows them to customize their business around their personal lives. One third of current laundromat investors consider their store a part-time job.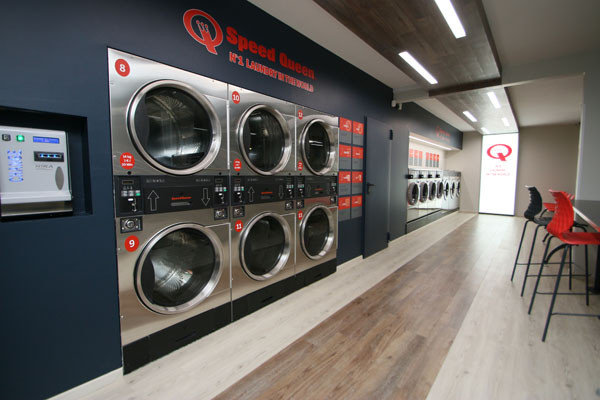 The Perfect Partner for Profitability
Since laundromats were introduced as a concept following WWII, the industry has experienced a steady climb in popularity. And as the world's leading commercial laundry company, Speed Queen commercial laundry offers more laundry solutions, more support and more of what you need for success than any other laundry equipment provider.
Advanced controls on new, innovative equipment – the most profitable machines in the industry – allow owners to maximize profitability and flexibility.
Contact us today to find out more.
*Speed Queen laundromat success rate is the number of NOT charged off loans per laundry divided by total numbers of loans originated from January 2001 through June 2013, based on experience of Speed Queen Financial Services.
**Wallace, B. (2014, December 9). Getting Into the Laundry Business [Webinar]